I can't believe October is OctOVER. Say it ain't so!

October was a good month for me, and I hope all of you enjoyed your month as well! I've always loved October. It's such a beautiful month. Pumpkins and jack-o-lanterns decorate porches, leaves finally start to turn those gorgeous hues of orange and red, and people fall in love with fall all over again.
October was fun, but I'm definitely looking forward to November. I'm ready for turkeys, and pies, and
all
the sweet potato things (I'm very obsessed with sweet potatoes). I also get an urge to sit and marathon
Gossip Girl
around November (or at least watch the Thanksgiving episodes). Something about November is very home-y and nostalgic for me.
November is important to me for another reason this year:
It's NaNoWriMo! I am proud to say that I am participating in National Novel Writing Month 2015. This is my first time participating (I've signed up in the past but never got around to actually writing). But, now that I'm out of college and I don't have to worry about schoolwork and homework, I actually have time to sit down and
write
. I've already surpassed the recommended word goal of 1,667 words for the first day of NaNo, and I'm hoping that I'm able to keep the momentum up. I'm incredibly excited for my project, but also anxious and overwhelmed. I know that NaNoWriMo is going to be an exciting experience, but it's also going to be challenging. Luckily, I have a ton of leftover Halloween candy to help me power through those 50,000 words!
(If you're participating in NaNo this year, feel free to add me as a writing buddy! My username is TeeM_Cee.)
Here's a closer look at my October 2015:
Books I Acquired
After I bought Queen of Shadows at the start of September, I put myself on a book buying ban. I have 50+ books in my TBR right now, and I need to significantly lower that number. However, at the end of October, there were a lot of eBook deals that I just could not resist. Here are the books I bought this past month:
I also
received
a few books in October. I won a giveaway hosted by Random House Kids and
The Reader Bee
for a copy of
Illuminae
. And, I also won
Brittany Cavallaro's
Twitter giveaway for a sample of her upcoming novel
A Study In Charlotte
(2016) from HarperCollins. (I won quite a few giveaways in October, but all of the books and items I won haven't arrived yet. I was very lucky this past month!) And, I received and eARC of
Butterfly Dreams
from NetGalley.
What I Read


I have been in the biggest reading slump! I don't know why and I don't know how to pull myself out of it. I have to read six more books in order to meet my Goodreads goal of reading 45 books this year, and I officially have two months to do so. Six books isn't so bad, right? (It kind of is when you're in a slump and trying to write your own novel at the same time.)
While I didn't read any books in October, I
did
manage to find some interesting articles around the internet:
What I'm Currently Reading
Surprise, surprise! This list is the same as the list I posted last month. Why? Because I'm in a FREAKING. READING. SLUMPPPPP.
I've been reading Illuminae for quite some time now. I received an eARC from NetGalley before the book came out. I was reading the story on my computer for a week or so. (Because of the format of the book, it is not compatible with eReaders. Or, at least the eARC wasn't compatible. So, I had to read the book on my computer via Adobe Digital Editions. This program can be really annoying because it doesn't allow you to zoom in on pages the way Adobe Reader would let you do with a PDF file. So, some of the smaller text in the book, and some of the details in drawings and diagrams I couldn't see. Therefore, reading this book on my computer became a pain. So, you can only imagine my excitement when I learned that I won a giveaway for a hard copy of the book! I am hoping to finish Illuminae soon.)
Outlander
// I'm doing a read along with my best friend,
Cheryl
. (I might put this in my DNF pile for now. I haven't picked this up in weeks and neither has Cheryl.)
We'll Never Be Apart
// I am slowly but surely making my way through this one. I will definitely be finishing it this month.
Illuminae
// I'm so in love with this book already! I can't wait to finish and review!
What I Wrote
What I Watched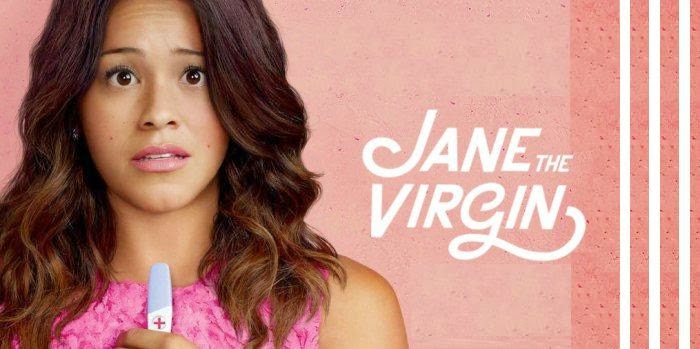 A friend of mine recommended Jane The Virgin to me back when the show first started airing on television. However, I'm the kind of person who, if I am more than 5 or 6 episodes behind on a television season (and it's not On Demand via my cable provider), will likely just wait for it to come to Netflix before I start watching. And, just a couple of months ago Jane The Virgin did come to Netflix. So, I moved it to the top of my watchlist. My other incentive to watch this show was Gina Rodriguez. She is gorgeous and flawless. And, her recent Emmy win for this show definitely made me curious to see what the hype was about.
I absolutely LOVE this show! Jane reminds me a lot of myself. (No, I'm not a pregnant virgin. But, I
am
a young, aspiring writer.)
If you haven't checked out
Jane The Virgin
yet, please do so. It's one of the best shows to come out of CW! (Ya know, other than
Gossip Girl
.)
What I Listened To
I'm still listening to
Badlands
all day, every day.
But in October I found myself listening to
X Ambassador's new album
VHS.
I have loved this band for quite some time now. I think that I subconsciously started obsessing over their music again this past month because this time last year I was seeing them perform live in my college town.
Seeing one of your favorite bands perform live, in a tiny, up close and personal venue is one of the most amazing experiences you could ever have. X Ambassadors have an amazing stage presence. When they sang "Litost", which is one of my favorite songs EVER, I swear I had an out of body experience. That moment was just surreal and something I'll never forget.
Some of my favorite songs from VHS are "Gorgeous", "Feather", and "Naked".
Aside from X Ambassadors, I've also been listening to BASECAMP and my
Fall Playlist
on Spotify.
Less Obsessing About Pumpkins, More Obsessing About Turkey
How did you enjoy your October?
What did you read? Watch? Listen to? Write?
Are you participating in NaNoWriMo this year? Are you as excited as I am?
Happy October! Talk to you soon!